First impression
The first impression of us a person gets is crucial in the business world, and it has not lost its importance by switching to digital channels. First thing you need to do is post a profile photo so that the client does not face a blank avatar with your name on it. Also, avoid using virtual wallpapers because this leaves the impression of a person hiding something. For a meeting, find a clean and relatively empty corner of your home or office, and point the camera so that your face is at the top of the screen. Avoid frog's and bird's eye view! Give preference to natural light, but use a lamp if that's not possible. Ensure good lighting so that the other side can see you clearly.
Conversational behavior
Even though a large part of your body is not visible, keep yourself upright and do not shake your feet. The person(s) you are speaking with will notice this very easily, and you will leave the impression of a nervous and insecure person. In an online meeting, always mind that you need to speak loud, clear, and a little faster than in a real-life. People lose interest and concentration more easily talking to a person online than when they do it live. Also, don't laugh while looking at your colleagues or yourself on screen, but laugh at the camera! That is the way to relate better with the audience. If displaying your camera on the screen is a distraction - go to settings and remove it.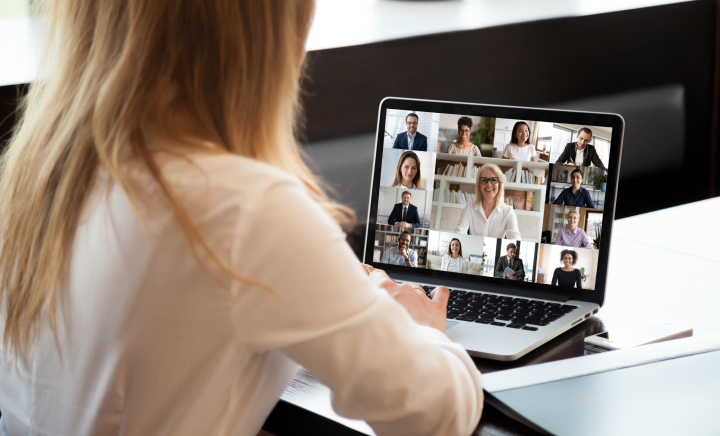 A mistake made by many is not silencing your notifications. You've probably found yourself once in a meeting where someone was receiving messages, playing on a cell phone, or echoing because the person didn't turn off the microphone when they needed to. Always keep in mind to turn off all possible notifications that may become a distraction to you or other participants in the call.
Readiness and presence
A good camera angle, quality lights, and professional photography can affect the first impression, but nothing benefits your performance as much as the readiness to exhibit. Do not look for clues on the screen or for an answer by looking around the room. Come to the meeting ready and confident in what you're presenting or asking. Focus on connecting with your audience. Prepare even if it's an insignificant business meeting or an important sale with a client! The advantage of meeting online is that the other party finds it harder to recognize insecurity and tension, so take advantage of that.
Online business meetings truly offer many benefits, and it is up to you to use the best of them. Follow the tips above to make a better impression, but keep your focus on the main meeting topic.

P.S. A stable internet connection is the foundation of a good online meeting!